Supporting involvement after safety events in healthcare

After a safety event in healthcare, NHS Trusts may conduct a Patient Safety Incident Investigation. Listening to and valuing different perspectives within a Patient Safety Incident Investigation can support patients and families to heal, and can support organisations to learn.
The resources on this website have been generated from an independent research programme, and co-designed by a community of stakeholders including patients and their families, patient safety managers, people who investigate, healthcare staff, legal representatives, and policy makers.
They have been designed to provide you with the information and support you might need, and make the investigation process as easy and as meaningful for you as possible.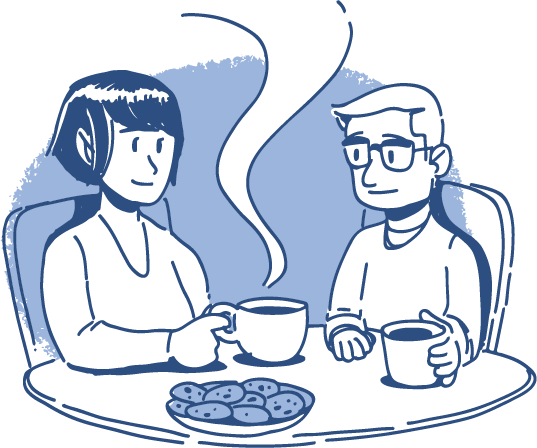 Introduction to Learn Together
Introduction to Learn Together film transcript – Deb Hazeldine
DEB:
My name's Deb Hazeldine, and I became a patient safety campaigner without even knowing it, in 2006, when my mum died horrifically in the Mid-Staffs disaster. She was admitted for physiotherapy and she died of C. diff.
Over many months of trying to complete physio, she would tell me that she was in pain in her back and in her ribs. And when I raised these concerns, my mum was told that the pain was all in her head and that she just needed to go through the pain barrier and become mobile. And it wasn't until after her death when I read in the notes that she had preventable falls in hospital and she had fractures in her back and in her spine.
Absolute despair. I just couldn't believe what was happening in front of me, what was evolving in front of me and I felt so unable to do anything. I raised concerns and nothing changed. There wasn't an investigation. It was just, Oh your mum was going to die. I didn't for a second think that when my mum had died, that when we raised valid concerns that nothing would be done, we thought instantly, somebody will do something.
And my daughter was 12 when my mum died. She was 19 and at university when we sat in London listening to the outcome of a public inquiry which stated some systemic failings at that point. And I never thought it would take that many years. The only time I was able to give my mum a voice was many years later with the lead investigator to the health care Commission who sat down and said, 'Debra, tell me what happened to your mum'.
That was many years later. I needed someone to say I'm sorry that this has happened and acknowledge that my mum had been failed. When my mum died, when I searched and looked for quite some time, there wasn't anything that I thought was supporting the families. There wasn't anywhere that the families had a voice and it always seemed as though it was the system doing something to you. So it was a system or an investigation that you weren't part of, and I couldn't quite understand how your most dearest loved one, wasn't having a voice if you weren't there actually sitting at the table.
I was contacted by one of the lead professors, Jane O'Hara, to see if I would be interested in being involved and getting a brief summary of what they were trying to achieve. I thought that's exactly what I would have wanted when my mum had died. So yes, I wanted to try and help if I could.
All the way through any of the investigations, the booklets, the documentation, families were asked their opinions and it was incredibly emotional to go through to think, with my own mum's death, nobody had asked my opinion all the way through from many, many years. To then see an investigation that could change things, felt very emotional.
I would have used them for me as a tool to be able to highlight what was missing and to be able to hold people to account. To say "You've not done A, B, C, and D, there might be a reason, but why haven't you?" And "if this has been highlighted, what do I do now? Where do I go now to get this information?" It would have given me much more knowledge. Whereas you go in blind, you don't have any answers, there's lots of jargon. Families don't know what to ask and don't know how they can ask that. If I'd have had the booklet to say this is the way that it should go. I'd have wanted to be able to hold people to account as to if it did and if it raised other issues and if it asked other questions and it highlighted those, I would then want to know who deals with that.
Information, for me, knowledge is power, and if you don't share that, we can't ask questions about processes that we don't understand, that we don't know that we're not involved in. And families desperately, I've found over many years, they want a voice. They want to be able to say, "This was my loved one. This is our family member. Can we please be involved?" And having everybody feeling that they are supported and that they matter because we all matter to someone. Honesty, transparency and candour would've changed my life dramatically to this day.
I think the investigation, it gives you the voice. It gives you the ability to be involved, but I don't think it can give you all the emotional support that you may need. And I think that's why with the reports and the booklets, there is other signposting to other organisations that might be able to do that for you. Because you may not know, I didn't know on day one what I needed.
First and foremost, be kind to yourself with the process that you're actually going through. It's the most emotional time to go through and don't ever apologise for being emotional. If you're at a meeting or if you don't understand something, ask and ask again. It's really important that you understand what is happening and don't be afraid to ask for support. You might not be able to be involved, but you might have another friend or family member that can support you. And don't be afraid to say what you need.
And I spent so many years standing in the wind, in the rain, in the snow, with a candle and a picture of my mum thinking that these conversations would never begin. So to know they're still continuing all these years on, that's what gives me hope. People are now speaking about patient safety investigations, whereas nobody wanted to speak about it when my mum died.
And the one thing my mum would want me to do is to never lose hope. You either have hope or despair. I hadn't got the energy for both, so I held on to hope.
And I know she stood next to me every single time I stood there with a photograph and a candle and I couldn't have done it without her.
What to expect: The five-stage process